---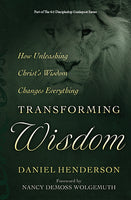 DISCOVER THE POWER OF PRAYING FOR LIFE-CHANGING GOSPEL WISDOM.

Includes chapter-specific prayer guides and practical questions for group discussion. 
Should I take that new job? How can I be a better parent? Who should I marry? How can I make ends meet? How can I untangle a complicated relationship? 
We all face challenging questions that keep us up at night, and we don't know who to turn to for answers, or even if there's anyone at all who can help. It turns out there is--the very God who created you.
Everyone needs God's wisdom to navigate the complexities of life and manage responsibilities, difficulties, and relationships. Yet, when it comes to our need for wisdom, many Christian are stuck in an Old Testament emphasis and have not discovered the indwelling power of Jesus Christ, our supreme wisdom for life.
Jesus Christ, the source of all wisdom and knowledge, has not called us to figure these things out for ourselves--he is ready to give us his perfect wisdom as we seek him in prayer.


In this book, Daniel Henderson shares a Gospel-centered approach to living wisely in a broken world. He gives you practical steps for praying to receive Christ's practical provision in the midst of our confusion and uncertainty in life and relationships. He's ready to open the treasuries of His wisdom. He's just waiting for you to ask.


Part of The 6:3 Discipleship Guidepost Series
WHAT OTHERS ARE SAYING ABOUT TRANSFORMING WISDOM
"This book on wisdom is yet another wonderful resource for the church from Daniel Henderson. Daniel draws on decades of experience in leading churches to seek the Lord through worship-based prayer, rooted in the wisdom of the Scriptures."
Nancy DeMoss Wolgemuth | Author and Teacher | Host of Revive Our Hearts
"The wisdom we really need may not be the wisdom we typically seek. This book will challenge your assumptions, open new windows of understanding and realign your relationships. Filtered through the life experience of a veteran pastor and renewal leader, the practical truths in Transforming Wisdom will connect you to the life of Christ to empower you for lasting life-change." 
Mark Batterson | New York Times best-selling author of The Circle Maker | Lead Pastor, National Community Church
"I start every single day by asking God to fill me with His divine wisdom. And yet, the moment I started reading Daniel's book, I immediately refocused my whole view of wisdom - it's not about me, it's all about Jesus. Every Christian who really wants to grow deeper in their faith, be more fruitful, discerning, and experience the abundant life, must read this book.  I am even more excited about asking for wisdom, because of Daniel's words: 'Wisdom is Jesus Christ - Choose Christ! Follow Christ! Seek Christ! Abide in Christ!'
     
Karen Covell |  Producer and Founding Director of The Hollywood Prayer Network
"Foolish choices are ruining the fabric of our nation and our lives. What we need is more of Jesus, more of His wisdom, more of His truth. Daniel Henderson delivers just that. Transforming Wisdom is a journey for wisdom and a map to some of God's greatest highlights along the way."
Lance Hahn | Sr Pastor, Bridgeway Christian Church | Author of How to Live in Fear – Mastering the Art of Freaking Out.