---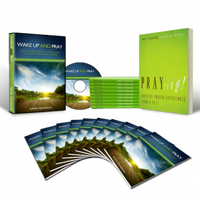 TRY BEFORE YOU BUY: GET A SAMPLE SET FOR JUST $25.00


Wake Up and Pray: Moving from Boredom to Blessings as You Encounter your Creator in Prayer
God is not the author of boredom, especially when we are conversing with Him. Ignite new creativity and excitement in your prayer life through this dynamic six-week DVD series. Total group study pack includes: 10 copies of the book PRAYzing! - Creative Prayer Experiences from A to Z, 10 Wake Up and Pray workbooks, and one Wake Up and Pray DVD. 
Six Week Session Topics Include:
The Dilemma of Prayerless Living & Sleepy Praying
Praying to Our Creative God
Praying by His Creative Spirit
Praying from His Creative Word
Praying in a Creative Way
The Practice of Creative Prayer
(a retail value of $190.00 when purchased individually)

All items are available for individual purchase under their respective book, workbook, or DVD categories. See links above.
If more than 10 copies of book or workbook are needed, please call us at 888.326.4774.  Bulk orders receive a 10% discount. DVD is also available in digital download format.