---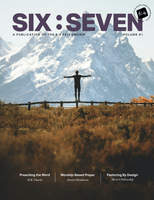 A chronicle of the origin, details, and ideals of The 6:4 Fellowship, this publication focuses on the foundational concepts and resources that Strategic Renewal and its ministries (of which The 6:4 Fellowship is one) have utilized, for decades, to become the agent of renewal that they are in the lives of church leaders across the country and around the world. 
In this first edition of SIX:SEVEN our hearts' desire is to bring you into our "aha!" moments, and the personal and professional differences that these moments have made... perhaps, even, to inspire those moments for you.
In this periodical, you will encounter the "two wings" that make up the pastoral ministry through articles on
Preaching the Word
and on
Worship-Based Prayer,
 as well as a story of 6:4's paradigm, which comes from Acts 6, in an article called
Pastoring by Design
. These articles along with testimonials from 6:4 pastors and biographies of 6:4 Directional Leadership Team members present a beautiful picture of what The 6:4 Fellowship has become, by God's grace.
This publication will inspire you as you understand The 6:4 Fellowship on a deeper level and prompt your intercessory prayers on their behalf as you read it yourself and share it with those within your circles.